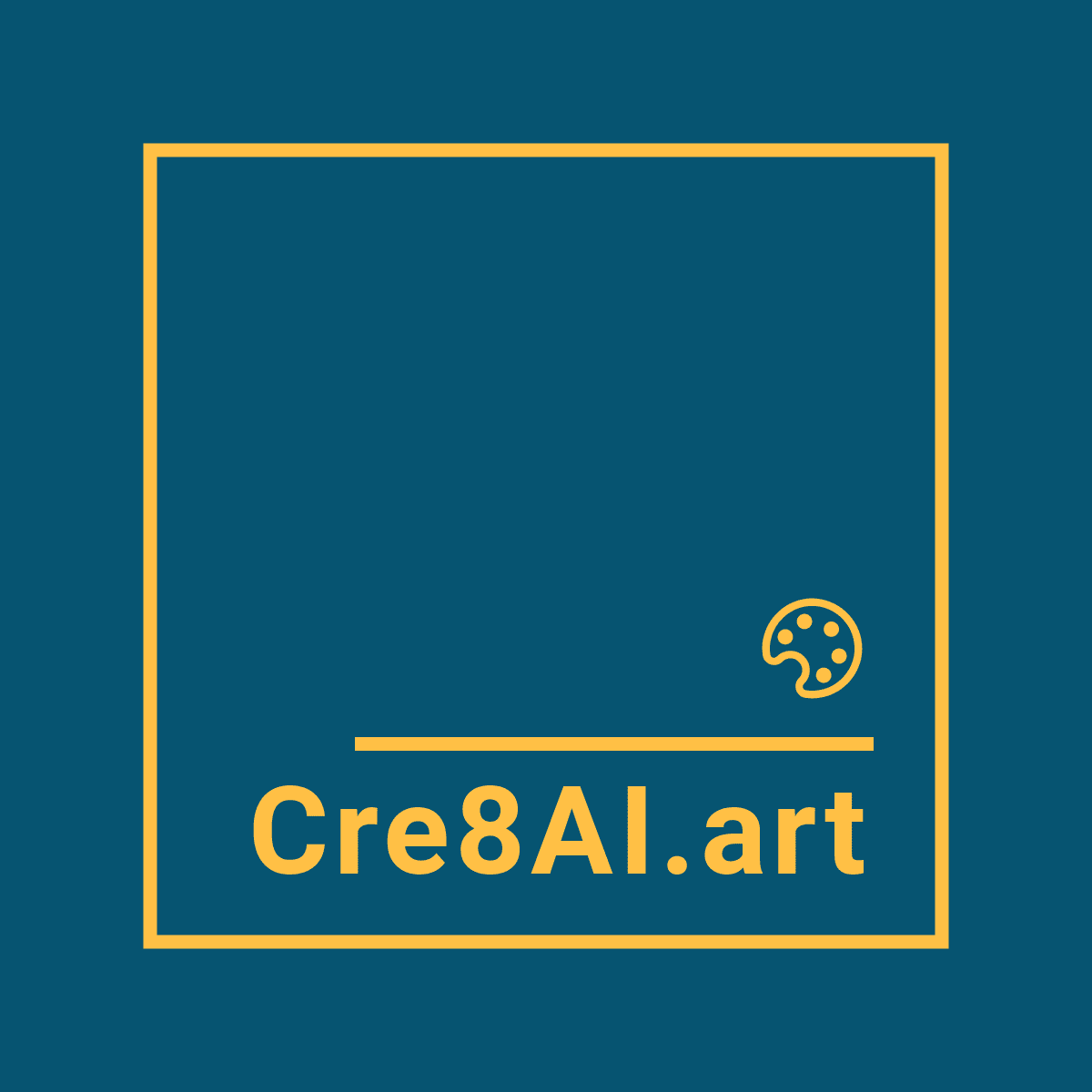 Terms of Use
Last updated: April 23, 2023
Welcome to Cre8AI.art (the "Website"), a platform that allows users to create, share, and interact with AI-generated art using Dalle 2 technology. By accessing or using the Website, you agree to be bound by these Terms of Use (the "Terms"). If you do not agree with these Terms, please do not use the Website.
Acceptance of Terms
By creating an account, uploading content, or otherwise using the Website, you represent that you have read, understood, and agree to be bound by these Terms. If you do not accept these Terms, you must not access or use the Website.
Eligibility
To use the Website, you must be at least 13 years of age. By using the Website, you represent and warrant that you are at least 13 years of age and have the legal capacity to enter into a binding contract.
Account Registration
To access certain features of the Website, you may be required to create an account. You agree to provide accurate, current, and complete information when creating your account and to promptly update this information as necessary to keep it accurate, current, and complete. You are responsible for maintaining the confidentiality of your account credentials and for all activities that occur under your account. You agree to notify us immediately of any unauthorized use of your account or any other breach of security. We will not be liable for any loss or damage arising from your failure to properly safeguard your account.
User Content
By submitting, posting, or displaying content on the Website, you grant us a worldwide, non-exclusive, royalty-free, transferable license to use, reproduce, distribute, prepare derivative works of, display, and perform the content in connection with the Website and our business, including without limitation for promoting and redistributing part or all of the Website (and derivative works thereof) in any media formats and through any media channels.
You represent and warrant that you have all necessary rights, licenses, and permissions to grant the above license and that the content submitted by you does not and will not infringe, misappropriate, or violate any third-party rights, including without limitation any copyright, trademark, patent, trade secret, moral rights, privacy rights, or rights of publicity.
Prohibited Content and Activities
You agree not to use the Website for any illegal, harmful, or offensive purposes, including, but not limited to:
Creating or uploading content that is unlawful, defamatory, obscene, pornographic, harassing, threatening, abusive, or otherwise objectionable, as determined by us in our sole discretion.
Creating or uploading content that promotes or incites violence, terrorism, illegal acts, or hatred based on race, ethnicity, religion, gender, or sexual orientation.
Engaging in activities that are fraudulent, misleading, or otherwise deceptive.
Infringing or misappropriating the intellectual property rights of others.
Violating any applicable laws, regulations, or industry standards.
We reserve the right, in our sole discretion, to remove any content that violates these Terms or is otherwise objectionable. We may also terminate your access to the Website for any reason or no reason, with or without notice, at our discretion.
Copyright Infringement
If you believe that any content on the Website infringes upon your copyright, please contact us and provide the following information:
A description of the copyrighted work that you claim has been infringed;
A description of where the alleged infringing material is located on the Website;
Your contact information, including your address, telephone number, and email address;
A statement that you have a good faith belief that the disputed use is not authorized by the copyright owner, its agent, or the law;
A statement, made under penalty of perjury, that the information provided in your notice is accurate and that you are the copyright owner or authorized to act on the copyright owner's behalf; and
An electronic or physical signature of the copyright owner or a person authorized to act on behalf of the copyright owner.
Please send the above information to our designated copyright agent at the following email address:
Cre8ai.art
Attn: Copyright Agent
Email:
[email protected]
We will respond to claims of copyright infringement in accordance with the Digital Millennium Copyright Act (DMCA) and other applicable laws.
Third-Party Content and Links
The Website may contain links to third-party websites or resources. You acknowledge and agree that we are not responsible or liable for the content, products, or services on or available from such websites or resources. You agree that you will not hold us responsible for any loss or damage that may arise from your use of such websites or resources. We encourage you to review the terms of use and privacy policies of any third-party websites or resources before using them.
Disclaimers
The Website and all content, services, and features available on the Website are provided on an "as is" and "as available" basis without warranties of any kind, either express or implied, including, but not limited to, warranties of title, non-infringement, or implied warranties of merchantability or fitness for a particular purpose. We do not warrant that the Website will be uninterrupted, error-free, or completely secure. No advice or information obtained by you from us or through the Website shall create any warranty not expressly stated in these Terms.
Limitation of Liability
In no event shall we be liable for any indirect, incidental, special, consequential, or punitive damages, including, without limitation, loss of profits, data, use, goodwill, or other intangible losses, resulting from (i) your access to or use of or inability to access or use the Website; (ii) any conduct or content of any third party on the Website; (iii) any content obtained from the Website; and (iv) unauthorized access, use or alteration of your transmissions or content, whether based on warranty, contract, tort (including negligence) or any other legal theory, whether or not we have been informed of the possibility of such damage, and even if a remedy set forth herein is found to have failed of its essential purpose.
Indemnification
You agree to defend, indemnify, and hold harmless us, our affiliates, licensors, and service providers, and our and their respective officers, directors, employees, contractors, agents, licensors, suppliers, successors, and assigns from and against any claims, liabilities, damages, judgments, awards, losses, costs, expenses, or fees (including reasonable attorneys' fees) arising out of or relating to your violation of these Terms or your use of the Website, including, but not limited to, your User Content, any use of the Website's content, services, and products other than as expressly authorized in these Terms or your use of any information obtained from the Website.
Governing Law and Jurisdiction
These Terms and any dispute or claim arising out of or related to them, their subject matter, or their formation (in each case, including non-contractual disputes or claims) shall be governed by and construed in accordance with the laws of the Republic of Ireland without giving effect to any choice or conflict of law provision or rule.
Any legal suit, action, or proceeding arising out of or related to these Terms or the Website shall be instituted exclusively in the courts of the Republic of Ireland, in each case located in the City of Dublin. You agree to waive any and all objections to the exercise of jurisdiction over you by such courts and to venue in such courts.
Waiver and Severability
No waiver by us of any term or condition set forth in these Terms shall be deemed a further or continuing waiver of such term or condition or a waiver of any other term or condition, and any failure by us to assert a right or provision under these Terms shall not constitute a waiver of such right or provision.
If any provision of these Terms is held by a court or other tribunal of competent jurisdiction to be invalid, illegal, or unenforceable for any reason, such provision shall be eliminated or limited to the minimum extent such that the remaining provisions of the Terms will continue in full force and effect.
Entire Agreement
These Terms and our Privacy Policy constitute the sole and entire agreement between you and us regarding the Website and supersede all prior and contemporaneous understandings, agreements, representations, and warranties, both written and oral, regarding the Website.
Changes to the Terms
We reserve the right, in our sole discretion, to modify or replace these Terms at any time. We will aim to provide at least 30 days' notice before any new terms take effect however this may not always be possible. Your continued use of the Website following the effective date of the revised Terms means that you accept and agree to the changes. If you do not agree to the new terms, you must stop using the Website.
Contact Information
If you have any questions or concerns about these Terms or the Website, please contact us at [email protected].